Aperçu
Protecting your privacy is a fundamental component of our service. We have been committed to maintaining the confidentiality, integrity and security of Personal Information entrusted to us by you.
L'article 5 du Règlement Général sur la Protection des Données (« RGPD ») stipule que les données personnelles doivent être traitées légalement de manière équitable et transparente. La présente politique de confidentialité explique pourquoi et comment nous collectons, traitons et effaçons vos données. Veuillez la lire attentivement pour comprendre notre point de vue et nos pratiques et n'hésitez pas à nous joindre si vous avez des questions. Après le Brexit, Leo est soumis à deux régimes réglementaires : celui du Royaume-Uni et celui de l'Espace Économique Européen (« EEE » ). Celui du Royaume-Uni s'applique lorsque nous traitons les données personnelles des individus au Royaume-Uni et le RGPD s'applique lorsque nous traitons les données personnelles des individus en Europe. Ce document fait référence aux deux réglementations afin de rassurer nos utilisateurs du Royaume-Uni et de l'EEE. Pour clarifier, le RGPD britannique signifie que le RGPD est la forme qui était applicable dans l'EEE le 31 décembre 2020 - le dernier jour de la période de transition du Brexit.
Aux fins de la présente politique de confidentialité, les termes suivants seront définis comme suit :
"Données personnelles" ou "Informations personnelles" signifie toute information sur un individu à partir de laquelle cette personne peut être identifiée. Les données personnelles et/ou les informations personnelles ne comprennent pas les données dont l'identité a été supprimée (c'est-à-dire les données anonymes).
"Catégories spéciales" désigne des données personnelles plus sensibles qui nécessitent un niveau de protection plus élevé, telles que des informations sur la santé d'une personne, son orientation sexuelle, ses opinions politiques, etc. Pour la liste complète, veuillez-vous référer à l'article 9 du RGDP.
"Personne concernée " désigne toute personne physique qui peut être identifiée, directement ou indirectement, au moyen d'un identifiant tel qu'un nom, un numéro d'identification ou des données de localisation.
Identité de l'entreprise
Leo RegTech Limited est enregistré au 11 Old Jewry, EC2R 8DU avec le numéro de société 04829021 qui agit aussi par l'intermédiare de sa succursale française au numéro 897 883 997 dont le siège social est situé au 128 rue de la Boétie, 75008 Paris, France ("Leo").
Si vous êtes un employé, un vendeur ou un client de Leo, aux fins des règlements, nous sommes le contrôleur des données, ce qui signifie que nous déterminons les moyens et les objectifs du traitement de vos données personnelles.
Si vous êtes un utilisateur de l'application Leo, nous sommes un processeur de données qui traite vos informations personnelles sur instruction écrite d'un contrôleur de données, c'est-à-dire le client direct de Leo.
What types of Personal Data do we collect, for what purpose and on what lawful basis?
Please refer to the table in Schedule 1 below.
Demandes et mises à jour de données
If you want to review, change or update the Personal Information that you have provided to us; request that you be removed from a mailing list; or address any other privacy concerns you may have, please contact us at [email protected]
Avec qui nous partageons nos informations
Nous ne partagerons pas les informations personnelles vous concernant avec des tiers, sauf si nous sommes tenus de le faire par la loi ou si nous utilisons des fournisseurs de services en cloud bien établis et de confiance.
The service providers that we share your personal data with are:
Cloud service provider with servers in the EEA
IT Infrastructure US company with servers in the EEA
IT Support including backups a UK company with servers in the UK
Analytics provider: US company which anonymises data in the UK, prior processing it in the UK
Client Relationship Management Software (CRM): US company with servers in the EEA
Accountancy Advisor: UK company
Telephone system provider: UK company
Transfert international en dehors de l'EEE
Leo does not transfer your Personal Information outside of the European Economic Area (EEA).If a need for international transfer arises, we will ensure that it is a permitted transfer, including:  performance of a contract between Leo and the Data Subject, reasons of public interest, to establish, exercise or defend legal claims or to protect the vital interests of the Data Subject where the Data Subject is physically or legally incapable of giving consent and, in some limited cases, for our legitimate interest in case of not repetitive transfers.
Nous veillerons toujours à ce que des garanties appropriées accompagnent tous les transferts.
Rétention
Nous ne conserverons vos données personnelles que pendant la durée raisonnablement nécessaire, pour des raisons d'obligation légale ou d'intérêt commercial légitime.
Personal data within our CRM system is stored indefinitely for the reason of legitimate interest of Leo business advancement, it is stored securely and with limited employee access.
Personal data of our clients or service providers, in relation to which we act as controller, is stored  for seven years from client's contract termination to meet the deadlines within civil statue of limitations.
Personal data of our clients, in relation to which we act as data processor, is stored in accordance with provisions of our engagement with you.
Vos droits et vos données personnelles
Vous avez le droit :
RIGHT OF ACCESS: you have the right to whether or not personal data concerning him or her are being processed
RIGHT TO RECTIFICATION: You have the right to ask us to rectify information you think is inaccurate. You also have the right to ask us to complete information you think is incomplete. This right always applies.
RIGHT OF ERASURE: You have the right to ask us to erase your personal information if we no longer need your data for the original reason the data was collected for, or if you are withdrawing your consent if the processing relied on your consent as legal basis, or we process your data unlawfully, or we have a legal obligation to erase the data or the data was collected from you as a child
RIGHT TO RESTRICTION OF PROCESSING: You have the right to ask us to restrict the processing of your information to temporarily limit the use of your data when we are considering:
a challenge you have made to the accuracy of your data, or
an objection you have made to the use of your data.
You may also ask us to limit the use of your data rather than delete it if:
we processed your data unlawfully but you do not want it deleted, or
we no longer need your data but you want the organisation to keep it in order to create, exercise or defend legal claims. 
RIGHT TO OBJECT TO PROCESSING: you have the right to object to processing if we process your information:
for a task carried out in the public interest;
for the exercise of official authority;
for their legitimate interests;
for scientific or historical research, or statistical purposes; or
for direct marketing purposes.
Note that we may not need to stop the processing if we can give strong and legitimate reasons to continue using your data.
RIGHT TO DATA PORTABILITY: This only applies to information you have given us. You have the right to ask that we transfer the information you gave us from one organisation to another, or give it to you. The right only applies if we are processing information based on your consent or under, or in talks about entering into a contract and the processing is automated.
To lodge a complaint with the Information Commissioners Office (the UK Supervisory Authority) or your local data protection regulator if you are in the EEA.
You can contact the Information Commissioners Office on 0303 123 1113 or via email https://ico.org.uk/global/contact-us/email/ or at the Information Commissioner's Office, Wycliffe House, Water Lane, Wilmslow, Cheshire, SK9 5AF.
Please note that Leo does not conduct automated individual decision making about you.
If we rely on consent in processing of your information, you can withdraw it at any time.
To exercise any of the above rights please contact us at [email protected]
Traitement ultérieur
Where we may seek to further process your data other than for the original purpose for which it was collected, Leo will only further process such data where the new processing is compatible with the original purpose or if personal data is anonymised and cannot be reidentified.
Mesures de prévention
Maintenir la sécurité des données signifie garantir la confidentialité, l'intégrité et la disponibilité (à des fins autorisées) des données personnelles.
Leo a mis en place des mesures de sécurité appropriées pour empêcher que vos données personnelles ne soient accidentellement perdues, utilisées ou consultées de manière non autorisée, modifiées ou divulguées. En outre, nous limitons l'accès à vos données personnelles à ces employés, agents, sous-traitants et autres tiers sur la base du « besoin d'en connaître ». Ils ne traiteront vos données personnelles que sur nos instructions et ils sont soumis à un devoir de confidentialité.
Leo ne transférera des données personnelles à un tiers que s'il accepte de se conformer à ces procédures et politiques, ou met en place des mesures adéquates avant de les recevoir.
Nous avons mis en place des procédures pour traiter toute violation présumée de données personnelles et nous vous informerons, ainsi que tout organisme de réglementation applicable, d'une violation lorsque nous sommes légalement tenus de le faire.
Données sensibles
We may, in certain cases and only as permitted by law, control and process Personal Data which are more sensitive in nature – for example, when making available to you Leo's modules providing for: a Know Your Client / Anti-Money Laundering check or client/vendor onboarding.  These modules may also store information on  past criminal convictions.
Intérêts Légitimes
Lorsque nous traitons vos données personnelles sur la base juridique d'un intérêt légitime, nous avons effectué une évaluation des intérêts légitimes pour nous assurer que nous avons pesé vos intérêts et tout risque que vous courez par rapport aux nôtres et que ces intérêts sont proportionnés et appropriés ; par exemple aux fins des RH, du marketing et des opérations quotidiennes.
Marketing
Lors de l'envoi de documents marketing aux clients, nous pouvons avoir la possibilité de nous fier à votre consentement ou à votre intérêt légitime.
Nous n'utilisons les intérêts légitimes pour le marketing que si nous avons évalué que les informations envoyées sont bénéfiques pour le client, et avons pesé nos intérêts par rapport aux vôtres et il y a peu ou pas de risque posé, la méthode et le contenu sont non intrusifs, et le matériel envoyé est quelque chose que vous vous attendez généralement à recevoir.
Our customer relations management system notifies us when you open an email sent by us and when you click a link inside so that we can build meaningful connections with you. If you do not want to share this information with us, please go to any email communication from Leo and hit 'Unsubscribe' at the bottom of the email.
Cookies, analyses et données de trafic
Cookies are small text files which are transferred from this website and stored on your device. We use cookies to help us provide you with a personalised service, and to help make our website, applications and services better for you.
We provide the following information with some explanations to ensure transparency to our users:
quels types de cookies sont installés ;
combien de temps ils sont sauvegardés sur le navigateur de votre utilisateur ;
quelles données ils collectent ;
dans quel but (fonctionnalité, performance, statistiques, marketing, etc.) ;
où les données sont envoyées et avec qui elles sont partagées ;
comment refuser les cookies et comment modifier ultérieurement le statut concernant les cookies.
Should you wish to change your preferences regarding cookies, please hit an icon in the bottom left corner of the website.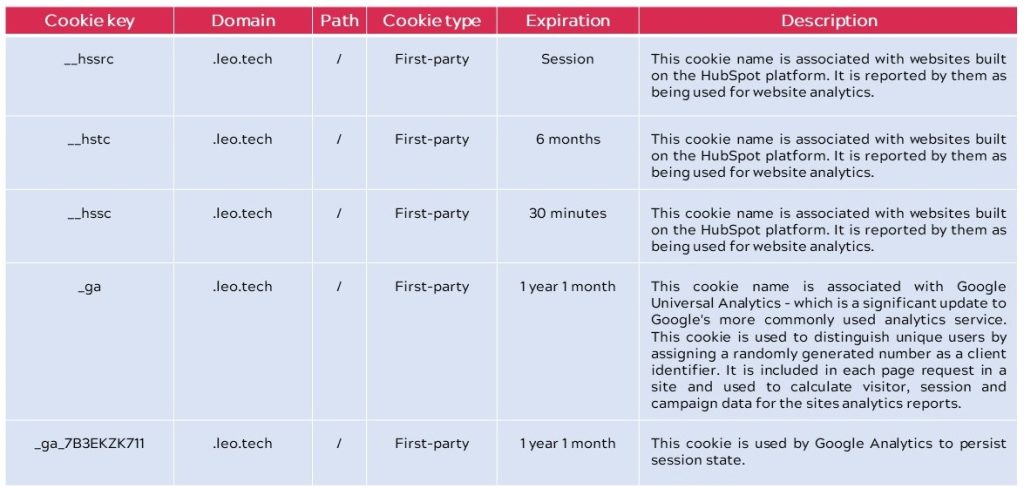 Modifications de notre politique de confidentialité
Toute modification que nous pourrions apporter à notre politique de confidentialité à l'avenir sera publiée sur cette page et, le cas échéant, vous sera notifiée par e-mail.
SCHEDULE 1
What types of Personal Data do we collect, for what purpose and on what lawful basis?
| | | |
| --- | --- | --- |
| PURPOSE FOR WHICH PERSONAL DATA WAS COLLECTD | TYPES OF PERSONAL DATA COLLECTED | LEGAL BASIS FOR PROCESING OF PERSONAL DATA |
| Marketing | Name, email address, direct phone numbers, associate company, IP addresses   | Legitimate interest: advancement of Leo's business by targeting well researched audience who would benefit from the services offered   |
| Client relations | Name, email address, direct phone numbers, associate company names based on legitimate interests, IP addresses, marriage status, interests, content of emails   | Legitimate interest: Communication with and client relationship management proportionate to the services provided |
| Credit control | Name, email, residential address, outcome of credit control   | Legitimate interest: Contracting with credit worthy businesses not to expose Leo to credit risks |
| Recruitment | name, residential address, contact details, interviews notes, CV contents, salary expectations, D.O.B., nationality, mother's maiden name   | Legitimate interest: Talent acquisition and management of the recruitment process in relation to individuals interested in working with Leo   |
| Invoicing | Name and contact details at an associated company   | Legitimate interest: Charging fees, including final invoices after the contract termination   |
| Provision of Leo's services | Log in details, name, contact number, roles and names, email addresses, phone numbers, addresses associated with the BCP; name, previous names, position within firm, other directorships, references number for FCA, email address, NIN, home address, history of residential addresses, certified copies of: passport, proof of address; CV; criminal proceedings information; civil proceedings information; other relevant matters;  disciplinary matters; potential complaints against person; potential disqualification or reprimand by the FCA or other regulatory body;  nationality, shareholding, country of residence; names, address, PEP status of PSCs  and clients complaints; training records | Legitimate interest: Processing of personal data necessary  for the provision of the services, including post contract termination but accordingly to contractual provisions |
| Prospecting | Name, email address, direct phone numbers, associate company names based on legitimate interests, IP addresses, marriage status, interests   | Legitimate interest: advancement of Leo's business by targeting well researched audience who would benefit from the services offered and entering into prospecting processes with individuals interested in Leo services   |
| Third party management | Name, contact details, associated company | Legitimate interest: Management of Leo's business relationships with third parties like suppliers and strategic partners |
| Meeting HMRC requirements | Name and associated accounting data | Legal obligation |